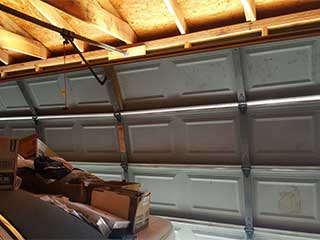 Problems affecting your automatic garage door system can be incredibly annoying and potentially very dangerous as well. To make sure you avoid as many issues as you can, some regular maintenance is needed. The service appointments our team provides will help you in many ways. We'll keep your springs in great shape, ensure your opener is safe for you to use, and see to it that no part of the mechanism is developing an issue that could grow into a full-blown malfunction anytime soon.
First Comes Safety
Our technicians will run some tests on your garage door opener in order to make sure that its safety-ensuring mechanisms are all fully functional. We'll make sure the photo eye sensors are properly aligned with each other, and we'll test the functionality of the auto-reveres feature to ensure the door will reverse when an obstacle gets in its way.
Spring Adjustment Services
In order to keep your door balanced, the tension of the springs may need to be adjusted periodically. Because these hardworking components are under constant stress, they will start to weaken over time, which could cause them to lose some of their tension. Our experts will test the balance of your door, adjust the tension of the springs safely, and then lubricate them to ensure their smooth and silent operation.
Speaking Of Lubrication
There are other parts of your door system that can really benefit from it. Mainly, all the moving metal parts, like the rollers and the hinges. We will also lubricate them, examining their condition in the process to look for any minor damage or rust. We will also check the tracks for bending and for misalignment, and repair any small dents we find on the spot.
Schedule a Maintenance Appointment Today
Instead of simply waiting for your door to break down due to a preventable problem, contact our team at Garage Door Repair Forney and let our experts make sure you avoid as many malfunctions as possible.
We also take care of:

Residential Garage Door Repair

Belt Drive Garage Door Openers

Extension Spring Adjustment

Emergency Garage Door Service