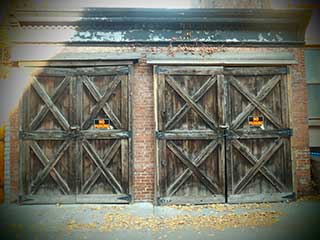 After years of constant use, your garage door may look dull and may malfunction if you've not spent much time maintaining it. If you notice that the door looks dull and needs a fresh look, there are a few steps you can take to improve the look of the door and get it working like its new again.
Wash The Grime Away & Refinish
At times a simple wash can do a lot to make a door appear bright and clean. There are different types of doors and depending on the material used, choose an appropriate washing technique. Steel and aluminum door need to be washed at least 3 times a year with a mild cleaning agent. Wooden doors need more care as the finish tends to wear out fairly quickly, depending on the quality and amount of weather resistance applied.
Give It Another Lick Of Paint
Most steel doors are already painted and applied with a finish that is suitable for repainting with most 100% acrylic exterior grade latex paints. Oil-based paints are never a good option. A specially designed primer can help in protecting exposed metal areas and prevent it from rusting. Once the primer is completely dry, the door can be painted within a day. Wooden garage door painting is different altogether - you should make sure you opt for the right type of paint for use outside. If in doubt, contact our team and consult your user manual.
Replace The Weather Seals
The weather seals play an important role in protecting the garage door from the elements of nature. If your weather seals are looking particularly worn, it's a good idea to get them replaced or you run the risk of moisture creeping into your garage.
Maintenance Is Key
All garage doors will eventually wear but garage door maintenance is important in helping to extend the door's lifespan. Lubrication, anti-rust treatment, and tension adjustments are all necessary maintenance tasks to carry out over time.
Checking The Balance
There are a number of tests you can carry out to check the safety and condition of your system's operation. To test your door's balance, leave your door open after manually lifting the door. If the door opens smoothly without any effort and stays still even after its let go, then the door is fine. However, if the door requires a lot of effort to open and shuts close on its own, then something may be wrong with the spring tension.
Testing The Reversal Mechanism
The reversal mechanism is designed to automatically reverse the door when it meets an obstruction. If this feature starts to malfunction, the door can become quickly turn into a hazard.
To test this function, placing a 2x4 plank of wood or a similar solid object underneath the door the opening. If it doesn't reverse when closing, you should get the mechanism looked at.