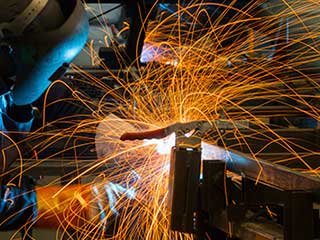 If you want to give your property a little bit of an edge, security-wise, then a gate system is extremely beneficial. Of course, this type of mechanism, just like a garage door, can experience a wide range of issues over the years. If you encounter such problems, you can count on our technicians to come to your rescue.
Hardware Damage and Rust
Your gate system will inevitably go through some wear and tear as time goes on. The more damage it accumulates, the higher the likelihood of a system breakdown, which can result from a wide range of issues. Whether it's a matter of straightening a bent track, replacing some worn wheels or carrying out hinge welding repair, our team has the knowledge and the skills to provide the solution you need when you need it. We can repair wrought-iron frames as well as wooden panels and posts.
Intercom System Malfunctions
Making sure you're able to communicate with people waiting outside your gate is very important, and when the intercom suddenly stops working for some reason, it can be incredibly annoying and inconvenient. The time you'll waste trying to figure out what's wrong is better spend doing practically anything else. That's why you should contact our team when something like this happens. We'll troubleshoot the problem with your intercom and quickly repair the damage we discover so that the system goes back to its fully functional state as soon as possible.
Dealing With Motor Issues
You may also come to experience problems that involve your gate opener unit. These are probably the most annoying issues to deal with, so you'll be more than happy you gave our experts a call. We'll check the sensors, the circuit board and the motor itself, and apply the most effective solution to the problem we discover.
The Right Team For The Job
Don't hesitate to reach out to our experts at Garage Door Repair Forney if you have any type of problem with your swing or sliding gate system. Whether it's the hinges, the track or some other part that's causing the issue, you can count on our team to solve the problem in as little time as possible. Call us today for more information.
Let our team take care of it for you!

Linear Gate Intercoms

Ramset Gate Openers

Parking Garage Gates

Gate Hinge Repair